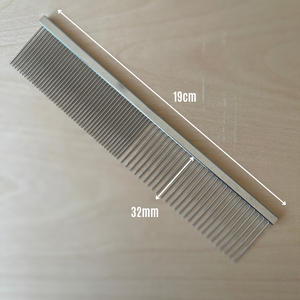 GROOMFEST WEEKEND OFFER
Wholesale box of 6 for resale or for use in a busy salon.
Lightweight stainless steel comb for use during coat prep. Use after slicker brushing during drying to make sure the brush has done its job and removed knots and tangles. Use this comb to tease out any that remain to ensure the coat is fully knot free.
Spray No More Knots directly onto the comb to help removal easier.
19cm long. Pins are 32mm in length and have rounded ends to avoid stratching.