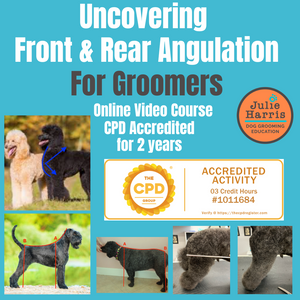 This short course helps you to create more sympathetic and flattering grooms by uncovering front and rear angulation with knowledge of canine anatomy. Being able to recognise a dog's anatomical structure and use that as a roadmap for your grooming will help you adapt your styling to be more flattering and improve the dog's overall appearance. 
Learn grooming tricks to address all of these common problems: Flat hocks, dropped heads, thickened/short necks, flat chests, legs placed under the body and much more.
Grooming is about flattering the form and function of the breed and giving the impression of forward motion - with an understanding of rear anatomy and how to create angulation your owners will love how dynamic you can make their dog look with this knowledge.
CPD Accredited. Open for 90 days.
Once purchased you will receive a link from julieharriseducation.com. If this is the first course you have purchased from us, click the link and set a password (save it). You will be able to log on and access your course repeatedly at any time over the next 90 days. When the course is completed you will be able to download a Certificate of Attendance with your CPD points, signed by Julie.
If you have previously bought webinars in this way, simply logon to julieharriseducation.com and it will have been added to your dashboard.
Happy learning!