GROOMFEST WEEKEND OFFERS NOW LIVE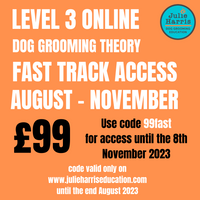 Online Theory Course
OFFER EXTENDED UNTIL THE END OF SEPTEMBER 99FAST. If you are taking your level 3 exam in November or want to bring yourself up to date with the latest legislation, gain knowledge on handling, anatomy, skin & coat then this is for you.
Read More
JULIE HARRIS EDUCATION BEST PRODUCT NOMINATION
JULIE HARRIS BEST PRODUCT NOMINATION
Julie Harris Groomer: Specialist Dog Grooming Courses and Grooming Products
Welcome to the home of Julie Harris dog grooming - online theory teaching for dog groomers and specialist dog grooming products.
Julie presents online training courses, in-person dog grooming seminars as well as dog grooming webinars. Covering a wide range of educational topics with specialist (CPD accredited) grooming webinars/courses for particular breeds such as Cockapoos & Doodles, Spaniels, Terriers and now NEW Poodles Blended Lamb Trim
Julie's also written a series of dog grooming books on in-depth topics such as dog skin and coat care as well as canine anatomy.
Julie's range of salon dog grooming products are loved by professional dog groomers all across the UK. The salon range will make your grooming easier and help create great results. It's designed for use on most dog breeds and includes our best-selling coat management spray Our new My Groomer Recommends range is available for you to retail with confidence to your customers. professional quality - a great add-on profitable sale after the groom.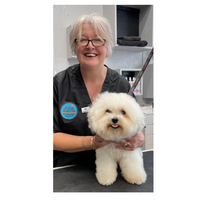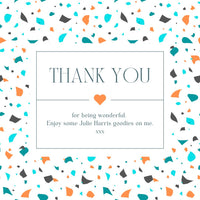 I Appreciate You
Who do you appreciate? The gift of knowledge lasts for ever. If you would like to treat someone to a Kind Hands Tour ticket, a webinar or any of our products our gift card option makes it easy. All denominations. Redeemable online. Valid for 12 months.
Treat Someone Now
What our customers say
I can't thank Julie enough for her help this summer with the C&G 3 talks....she was informative and kind in a very down to earth and approachable way and made me feel I was not on my own!! Her tips were invaluable and whilst my school was okay, Julie was much better.

Laura
Without Julie Harris Education I wouldn't of learnt the amount I did to help me pass my exam! She helps break the subject down in a way that makes it easier to learn without it being over whelming. Thank you so much - I'm over the moon with my results. I will definitely be continuing to learn with Julie and looking forward to joining The Groomers Spotlight.

Lynzie-Louise
Recommend....absolutely. Not only is she funny and talented. Julie has helped me so much with her knowledge to help me through exams and dog grooming. Thank you JH

Julie
Had a really poor experience at the college I trained at but Julie and her team saved the day. I passed my theory thanks to them! Julie is an excellent teacher, funny and knowledgeable beyond belief. Would highly recommend Julie. Thank you Julie, youre amazing

Kerry
Julie is so knowledgeable and generous with her knowledge. She delivers it all in an easy-to-understand way and with humor which makes the whole learning experience so much easier and enjoyable! Every time I hear this lady speak I learn something new! Thank you to the Julie Harris Education team!

Debbie
I thought the videos were excellent. Julie has an excellent teaching technique in that she explains the why and reason of everything, so that for me it stays in my mind and "clicks". Also what I like is her love understanding and vast knowledge of the "Dog", Anatomy, Breed history and development, not just a pretty hair cut. I definitely recommend following and watching Julie Harris Education

Deborah
"Great, Fabulous, Amazing sharing with our students - thank you Julie Harris - love the name too! xxx"

Jocelyn
"Fabulous seminar , learnt so much. Excellent presentation with brilliant tips, thank you 😊 can't wait for the next one 😊"

Nikki
"Really like the anatomy series, hoping there will be a skin and coat series too 🤞"

Natalie