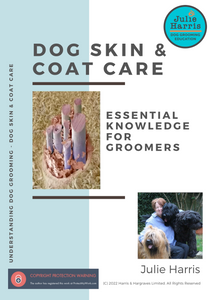 Dog Skin & Coat Care for Groomers
Twenty-four pages of essential knowledge, written in Julie's clear style jammed pack with pictures and illustrations. By understanding the structure of a dog's skin and coat you, as groomers are better able to choose appropriate products and tools, plan your groom and anticipate potential problems. This is also a huge step in raising the level of understanding conversation you can have with your customers about caring for their dog.
You may also be interested in our Dog Skin & Coat Care Webinar for Groomers, where on completion, you will receive this digital book free of charge.
Julie has written a full range of dog grooming books for professional dog groomers or anyone wanting to learn how to groom a dog at home. They can also be used as support material for our online dog grooming courses.
Learn dog skin and hair structures and their growth cycles and how the timing of a groom can be significant to the results you achieve. Learn grooming preperation techniques that can make a massive difference to the finished result and lots more. 
Digital products can not be refunded.
Copyright 2021 Harris and Hargraves Limited. Purchase is for single person use only. If you are a tutor and would like to access multiple copies for students, please get in touch: hello@julieharriseducation.com